HM-ZD2418/2418PLUS Automatic Rigid Box Machine
HM-ZD2418/2418PLUS Automatic Rigid Box Line is specialized in mass producing all kinds of small rigid boxes, such as finest jewelry boxes, ornaments boxes, gift boxes, watch boxes, pencil boxes, candy boxes, souvenir boxes, and cosmetic boxes, etc, which covers the ring boxes. It is the smallest automatic box maker in China.
This machine adopts PLC and man-machine control, error auto stop and display, camera tracing system, and can automatically feed coverpaper, feed greyboard, paste four corners, spot greyboard, lift box, wrap box, fold corner edges and form box.
The feeder, gluer and conveyor are driven by servo system which has continuously variable transmission and enjoys high accuracy, easy adjusting, and less time consumption. Double color conveyor can save the time for changing to other color belt, which is Hongming's patent. The spot unit adopts Germany camera with 5 million pixel and robot arm to pick and spot the greyboard, enhancing the spotting accuracy to ±0.05mm. The forming unit employs Germany linear slider, stable and wear resistant.
Features and function
1. Suit to all kinds of rigid boxes in mass production;
2. Computer control with error auto stop and display;
3. Adopt servo and PLC;
4. Automatically change mould(optional);
5. Automatically feed paper and greyboard;
6. 24-hours control for glue pre-heating;
7. Input 300 product formula, and add 2G memory SD card(optional);
8. Automatically cut and heat tape to paste the greyboard box's quad stayer (four corners), with independent man-machine control;
9. Spotter by camera tracing system and robot arm(spotting inaccuracy ±0.05mm);
10. Wrapper can automatically and continually deliver box, wrap paper, fold corner edge, fold in and form box;
11. Automatic control system for glue viscosity(optional).
Technical parameters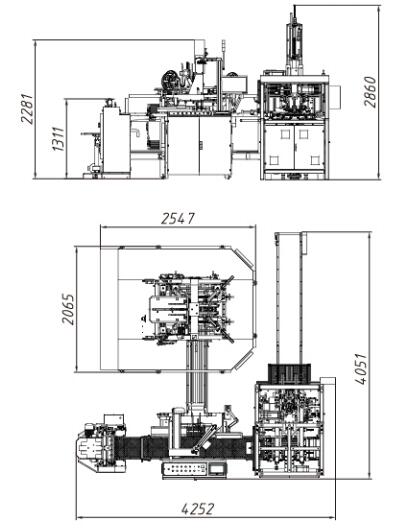 TAG:&nbsp&nbsp&nbsprigid box making machine&nbsp rigid box line&nbsprigid box making machine